When:
2019-06-05T00:00:00+01:00
2019-06-06T00:00:00+01:00
PLEASE NOTE:  Unfortunately due to this training being very popular, we are no longer taking bookings for this session of training due to being over subscribed.  If you would like to be considered for future sessions, please email us with an expression of interest and we will keep you on record.
Ideal for those that have informally run projects before, or for those that are looking to move into project management, this unit will help learners: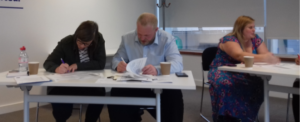 Develop an understanding of what projects are, and the stages of project management
Identify basic project design principles
Understand what project planning tools and techniques can be used in project management
Develop an understanding of the advantages of using targets and milestones to monitor the progress of projects
Consider project evaluation and review techniques
Consider the financial appraisal of projects, and the role of financial monitoring
This unit will be delivered over three days, by Advice Skills Academy staff.
The assignment for this unit will focus on:
Describing a simple workplace project
Developing a project plan for the project
Identifying project milestones and targets
Describing the evaluation of the project
Considering the financial and non-financial implications of the project
Accredited qualification requirements / details:
For information about pre-requisites for booking, download the Accredited Training Programme Booklet